Smileycons 6.0.1 Tutorials - Creating Signatures
Signature Editor requires the registered version of Smileycons
Smileycons 6.0 comes with cool Signature Editor that lets you create handwritten signatures and tag lines for your email program, message board posts, blog posts, and anything else you want to use them for!
The first thing you need to do is open the Signature Editor (also called "Signature Creator"). To open the Signature Editor, click "File" then "New" and select "Signature" from the drop-down menu. See the image below: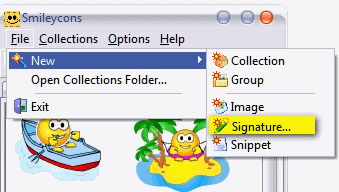 When you open the Signature Editor, you'll see a whiteboard and three tools. A pencil, and eraser and a cancel button. See? Look at the picture below.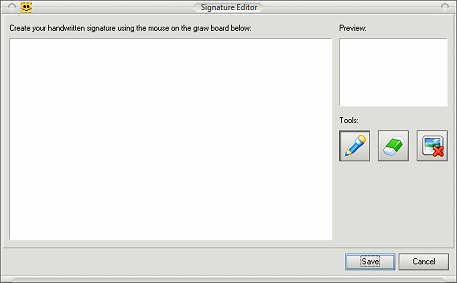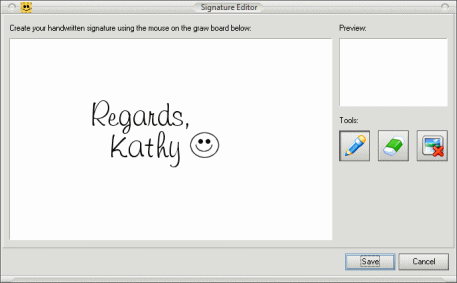 Select the pencil and use your mouse to write your name, tag line, expression, greeting, or whatever else you want to write, in your own handwriting. If you have a touch tablet you can even do better than with a mouse. If you don't, a mouse will work just fine. You might have to practice to become perfect! You can even draw little smileys or kisses or whatever you like:) The Smileycons' Signature Editor is limited only by your imagination.
When you're done creating your masterpiece, click the save button, and you can save your signature as an image in any group or pack in the Smileycons program. Or you can create your own pack of signatures or combine it with any other pack you wish. It's very easy and it's a lot of fun too! And, you can create as many signatures as you want!