Smileycons 6.0.1 Program Options
Before proceeding make sure you have the latest version of Smileycons (version 6.0.1).
Smileycons program options can be accessed from the Smileycons toolbar.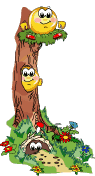 The Most Important Step - Setting Up Smileycons
Please make sure to configure Smileycons correctly for your email program or web service before doing anything else. Configuring Smileycons correctly is the best way to ensure trouble-free operation!
Look at the image below. Click the down arrow (it is highlighted in green) and choose your email program or web service from this list. It will auto-configure Smileycons to work in the program you select. You can easily change this setting any time you are using a different email program or service.
Return to the top of this page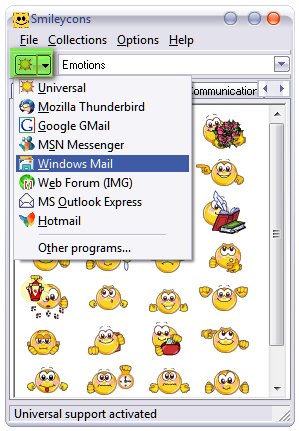 Return to the top of this page
Stay On Top
Stay On Top should be checked at all times. This keeps Smileycons on top of all other windows so you can always see the images in Smileycons. It makes it easy to choose the image or animation you want to insert in your email message, Web forum post, or MSN Messenger chat window.
Local Mode - If you configure Smileycons with the email program or service you are using as explained above, you will not need to adjust this setting.
When this is checked images and animations are accessed directly from your hard drive. If you uncheck "Local Mode" the images are accessed directly from our Web server. Generally, it's best to leave Local Mode unchecked since this works with the most email programs, web forums and message boards, Web mail applications like Yahoo, Google and Hotmail. If you configure Smileycons for the program in which you're using it, you don't have to worry about "Local Mode". The configuration tool will reset this for you based on your configuration.
Return to the top of this page
Make sure you're using the latest version of Smileycons (Version 6.0). Click here . Smileycons 6.0 works with Windows XP, Windows Vista, Windows 7 Windows 8 and Windows 10 32bit and 64bit. .
Signature Creator - (Included in Version 6 only)
The Smileycons Signature Creator lets you create and save handwritten signatures using only your mouse. You can write your name, witty quotes, or anything you like and the save your file to any group you like. You can insert your special creation in your email messages. Please remember that Signatures will not work on Web messages boards or forums. They work only with your email program on your computer. See our tutorials page for great tips on creating your own handwritten signatures.
Create and save handwritten signatures, quotes, witty sayings...the only limit is your imagination!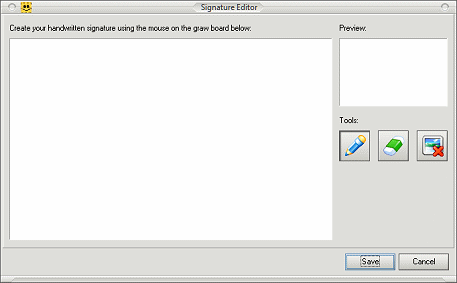 Return to the top of this page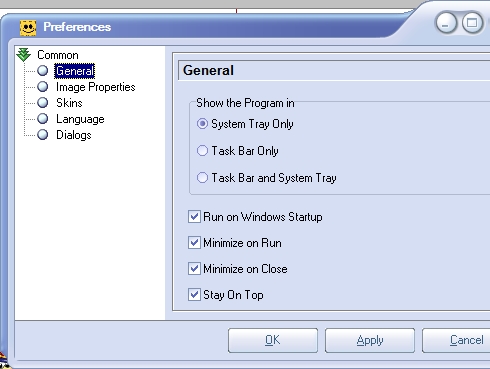 Under "General Preferences" you can configure your Smileycons program the way you want. You can can choose the option to have Smileycons start when Windows starts, show its icon in the System Tray (by the clock), in the task bar or both.

Under "Image Properties" you can manipulate alignment of the images and animations, add "ALT" tags and/or specify a target URL when the image is clicked. This option is recommended for more advanced users.

Under "Skins" you can customize the way the Smileycons program looks. You'll find a variety of great-looking themes for your Smileycons program under "Skins".

Under "Language" you can set the program's default language. At the present time only English is available.

Under "Dialogs" you can choose which Email Programs, Web mail programs, etc. that are listed when you you choose "Configure Email Programs" under options. It is better to leave all the dialogs checked. That way, you'll have all choices available should you change your favorite email program in the future, wish to use Smileycons with different types of Message Boards, or automatically configure Smileycons to work with MSN Messenger.

"Stay On Top" should always be checked.