3 Step Quick Start Instructions for Download and Installation
---
Having a problem downloading? See the detailed instructions below.
Detailed Instructions for Downloading Smileycons:
When you click the download link for Smileycons you'll see a dialog like the one below (yours may differ depending on your browser and/or operating system). We recommend that you choose "Save" and save the file to your desktop.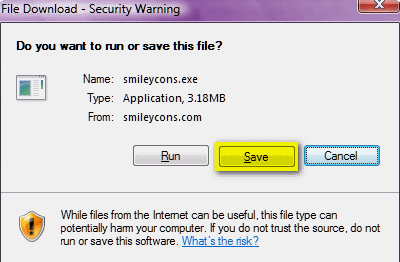 If you choose "Save" make sure you save the installation file to a location where you can find it quickly; for instance your desktop. After you've downloaded the installation file, locate it and double-click it to begin the installation. The Smileycons Installation Wizard will guide you though the installation process. The Wizard will make it a snap for you to install Smileycons on your computer.
Should You Choose Open Or Run?
When installing Smileycons, we do not recommend you choose "Open or Run" as you should keep a copy of the file in case you need to reinstall, backup, etc. Note: What is the difference between Open/Run and Save? Click Here for an explanation
You will be given a choice of installation location. We suggest that you not change the default location (which is c: \ program files \ Smileycons ) unless you're an advanced user.
Updating / Upgrading (updates of current version is free for registered users, and upgrades to newer versions is only free for Gold Members)
If you're upgrading from an older version to the newest version, it's important that you DO NOT UNINSTALL YOUR CURRENT VERSION. The Smileycons Wizard will detect the older version on your computer, and upgrade it, while keeping all your expansion packs, personal preferences and registration. If you uninstall your current version you will have to go through the trouble of re-registering the program, resetting all your preferences and re-installing all your expansion packs. To avoid any complications or problems - DO NOT UNINSTALL YOUR CURRENT VERSION OF SMILEYCONS WHEN YOU UPDATE or UPGRADE TO A NEWER VERSION.
If you're upgrading from an older version of Smileycons, it is important that you exit Smileycons before you being downloading the newer version. To exit Smileycons, open the Smileycons program and click "FILE" then "EXIT" on its toolbar. If you receive the error message "Error Message 5", please choose "Ignore" and proceed with the installation. The installation will proceed normally. This error is caused by files from Smileycons remaining in your computer's memory even after you've closed the program. Clicking "Ignore" allows you to bypass this error message and proceed with installation normally.
General Download FAQs and Troubleshooting
(corrupt files, invalid win32 application, etc)
We do recommend you turn off any download assistant programs such as Real Download, Gozillza, Get Right, Download Accelerator, etc, since these may redirect your files. Some of these programs will not even allow you to download from our server.

If you get a notice that the file is corrupt (or not a valid win32 application), it means your file did not download entirely. You will have to re-download the file. This can be caused by an interrupted internet connection. If you continue to have problems, try downloading later when traffic is lighter.

Do you have a Popup killer on your system? If so, you may not be able to download.
What is the difference between Open/Run and Save, and why do we recommend Save?
Open/Run is for those occasions when you want to install from the web. If you want to save a copy of the actual file, you will need to choose SAVE. We recommend you choose "Save" and save the file to your desktop and double-click the file you downloaded to install Smileycons on your computer.
More information: Save means you are downloading the file to a folder on your hard drive. If you are getting a program that you want to keep the download file for safe keeping, such as our downloadable Smileycons program, you would want to save the EXE file to your desktop or a folder of your choosing, click to install, then save the exe (the setup file) for use later in case you format (copy or save the exe file to a CD ROM for safe keeping).
.
Return to help page | Register Smileycons | Go back to the top of this page