Smileycons Starry Sky Expansion Pack
For Smileycons Gold Members only

Get Gold Membership right now and download this dozens and dozens more Smileycons Expansion packs right now. Expansion packs help you expand your smile! Smileycons works great with Windows Vista too!
Our Starry Sky Smileycons Expansion Pack is free for Gold Members!
You must be a Gold member to get this pack.
Click here for Gold Membership plans!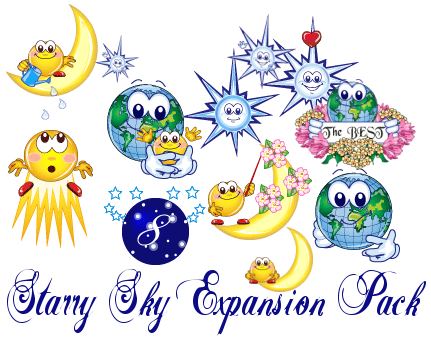 Smileycons Gold is for those who already have the registered version of Smileycons (in other words, those who have purchased a registration key).
If you haven't already purchased a registration key, choose "Smileycons Plus One-Year of Gold Membership" or Smileycons Gold Plus a Lifetime Gold Membership". We'll send you a license key for the Smileycons program and provide you with the gold membership plan you chose. Get more details here.
.
Smileycons is compatible with Windows XP, Windows Vista, Windows 7 Windows 8 and Windows 10. Smieycons works on both 32bit and 64bit computers. Smileycons is copyright ©2004-2016 by Cloudeight Internet LLC (all rights reserved). Smileycons® is a registered trademark of Cloudeight Internet LLC.